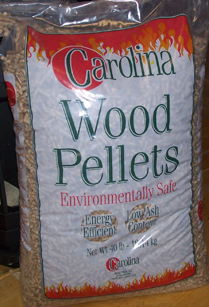 1 TON. 50 / 40lb Bags
Carolina Wood Pellets
A wood pellet fuel facility located in the beautiful Smoky Mountains of Western North Carolina.

The States first wood pellet manufacturer to locate in North Carolina.

Carolina Wood Pellets creates a 100% premium hardwood pellet fuel for use in wood pellet stoves and boilers.

Low ash content, low moisture, and high heating value. Purposely provided in to clear see through 40-lb bags to view it's southern hardwood quality.