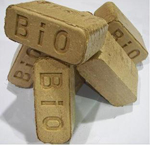 1 TON pallet
Each brick weighs avg. 2lbs
Comes 20 bricks per bundle
50 bundles per ton
BioBricks®
Used in even our own office wood stove in the past here at woodpelletfuel.org! On the average we used 30 bricks in 24 hour period abound the clock. We where skeptical but they really are great! Wife friendly (just a joke)!!
Excellent firewood alternative of choice
All natural binders, no chemicals used
No smell!

BioBricks provide a less expensive alternative to oil, This product heats homes more efficiently with an environmentally friendly option.
Lights easy and in no time you will feel the heat!
Equals to 1 4x4x8 cord of firewood
No smoke
No indoor firewood mess